Advertise With Hangar Flying Instrument Panel Designer
Hi, I'm Bill VonDane, and aviation has been a part of my life for as long as I can remember, and am extremely lucky to have the opportunity to fly for a living. With experience in Military, Certified, Experimental, and Light Sport Aircraft. I developed the original ePanel Builder in the early 1990s and, for over 12 years, designed and fabricated custom instrument panels and avionics systems for customers all over the world. Now, when I'm not flying, I'm managing the Hangar Flying Instrument Panel Designer.
The Hangar Flying Community aims to provide high-quality tools and resources to the aviation community, without additional financial burdens on builders. That being said, keeping things running here requires many resources, takes a fair bit of time, and a substantial financial commitment.

As aviators, we know anything to do with planes and flying is expensive, and I'd rather not add to that. So, I welcome you to help by advertising with us. One of our primary tools for getting the word out for our Advertisers is ads on our website, within our Instrument Panel Designer, as seen on the right side of this page. We also post daily on Facebook, Instagram, Twitter, Pinterist and Google, and send our e-Newsletter to our subscribers weekly.

Our newsletter includes our advertisers, alongside user Panel Design and Builder's Log updates, Panel Designer app updates, interesting news items, and incredible photos and videos. Giving you the attention you need from an audience that is mostly interested in everything aviation-related.

Interested in increasing the reach of your aviation business by advertising with us?
Currently Supported Ad Sizes

Website Sidebars and Panel Designer right and bottom ad areas- 150×60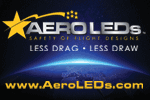 Website Sidebars and Panel Designer right and bottom ad areas- 150×100